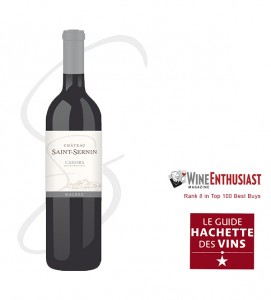 Brand name: Château Saint-Sernin
Vintages & awards:
2009 – Rank 8 in  Top 100 Best buys – Wine Enthousiasts
2011 – 1 stars – Hachette Guide
2012
2014
Soil: First and second terrace.

Varietals: 85% Malbec   15% Merlot

Vinestock per hectare : 4000

Yield: 50 hectoliters per hectare
Care of the vineyard: Guyot pruning. 8 buds on the fruit-bearing and 2 on the spur. Desuckering by hand. Thinning. Green harvest.
Vinification: Maceration on skins for 24 hours. Long and low temperature fermentation in thermo regulate stainless vats (control of the temperature). Pumping over and delestage before D°1045. Long maceration with pomace and micro oxygenation.
Maturing: In French oak barrels for 8 months minimum. Regular topping-up.
Wine & Food : Poultry roast meats, spicy food, cheese.