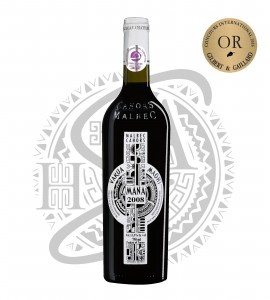 Brand name  : MANA
Vintage : 2011
Award :Gold medal – Gilbert & Gaillard Guide
Color : Red
Soil : Third terrace. Kimméridgian.

Grape variety : 100% Malbec

Density of plantation : 4000 vinestock per hectare
Yield : 45 hectolitres hectare
Care and work of vines : Guyot pruning. 7 buds on the fruit-bearing and 2 on the spur. De-suckering by hand. Thinning. Green harvest. Hand-picked.
Vinification : Maceration on skins for 48 hours. Long and low temperature fermentation in thermo regulated stainless vats (control of the temperature). Pumping over and delestage before D°1045. Long maceration on pomace with micro oxygenation. Drawn off for secondary malo lactic fermentation.
Ageing : In stainless steel vat for 10 months minimum.
Tasting : A dark robe veering towards black. Heady floral nose of peony with wild cassis and red currant. Smooth, supple palate with a soft mouth feel allowing aromatic expression. Full bodied in the mouth with light, silky, clean and lasting aromas. An elegant and fresh Cahors. Fruits come out tops. Well balanced, full and long in the mouth, complex and sophisticated aromas.
Food and wine partnership : Leg of lamb. Piece of beef. Game birds. Chesse.